Company Logo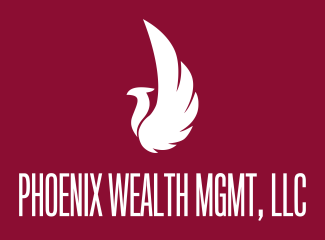 Email
info@PhoenixWealthMgmt.com
Disclaimer
We take protecting your data and privacy very seriously. As of January 1, 2020 the California Consumer Privacy Act (CCPA) suggests the following link as an extra measure to safeguard your data: Do not sell my personal information.
Guided Wealth Portfolios (GWP) is a centrally managed, algorithm-based, investment program sponsored by LPL Financial LLC (LPL). GWP uses proprietary, automated, computer algorithms of FutureAdvisor to generate investment recommendations based upon model portfolios constructed by LPL. FutureAdvisor and LPL are nonaffiliated entities. If you are receiving advisory services in GWP from a separately registered investment advisor firm other than LPL or FutureAdvisor, LPL and FutureAdvisor are not affiliates of such advisor. Both LPL and FutureAdvisor are investment advisors registered with the U.S. Securities and Exchange Commission, and LPL is also a Member FINRA/SIPC. All investing involves risk including loss of principal. No strategy assures success or protects against loss. There is no guarantee that a diversified portfolio will enhance overall returns or outperform a non-diversified portfolio. Diversification does not protect against market risk.*An annual small account fee is applied to accounts with less than $10,000 invested. Additional fees will apply.
Securities and Financial planning offered through LPL Financial. A registered investment advisor. Member FINRA & SIPC.
Amber Phoenix | NV | 9205 W Russell Rd STE 240, Las Vegas, NV 89148 | CA Insurance Lic #0D39386
The LPL Financial representative associated with this website may discuss and/or transact securities business only with residents of the following states: CA, FL, GA, IL, KS, MA, MI, MO, NV, NY, OK, OR, TN, TX, VA, WA
9205 West Russell Road
Suite 240
Las Vegas, NV 89148
United States
Company Description
We are dedicated to providing investment management and strategic wealth planning that is right for you. Simply put, we strive to be our client's trusted advisor.